ORIJEN AMAZING GRAINS™ is the first dog food in the ORIJEN™ line up to include a super-premium grain blend to help support your dog's digestive health. It's also packed with protein-rich WholePrey animal ingredients to satisfy your dog's biologically appropriate cravings. At 38% protein, it boasts one of the highest percentages of protein in a grain-inclusive food, and approximately 90%* of that protein is delivered from animal ingredients.
Like other ORIJEN® diets, the first five ingredients in ORIJEN AMAZING GRAINS™ are always fresh or raw animal protein. ORIJEN™ diets also offer WholePrey ingredients, meaning they incorporate meat, organs and bone from meat, poultry and fish to reflect a dog's natural diet.
The scientifically-tested and validated ORIJEN AMAZING GRAINS™ premium dog food diets have prebiotics, probiotics, and soluble and insoluble fiber to help support digestion. Additionally, the food also helps to support key health benefits, like immune function and healthy skin and coat through Omega-3 rich oil from wild-caught pollock. Because of its concentration of animal ingredients, ORIJEN AMAZING GRAINS™ kibble also helps to support dogs' muscle maintenance.
ORIJEN AMAZING GRAINS™ dog food makes its debut with five recipes dogs love: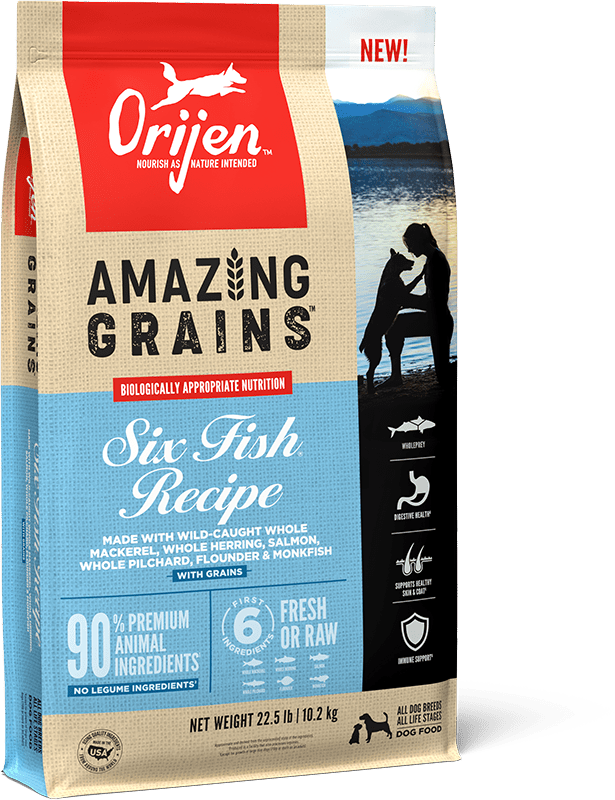 Puppy Large is formulated for large-breed puppies that benefit from a different ratio of calcium to phosphorus that promotes slow and steady growth in bones and joints. All five recipes are available in 22.5lb bags, and all but Puppy Large are available in 4lb bags. Don't just help your dog feel full — nourish them with ORIJEN AMAZING GRAINS™!
---
*Approximate and derived from the unprocessed state of the ingredients
Our fresh ingredients use refrigeration as the sole method of preservation and our raw ingredients are frozen at their peak freshness.